Article
Embrace the Power of Nature with Irish Design
17 May 2022
Read Time: 6 mins
There's a growing body of evidence to support the healing benefits of nature - from the physical to the emotional - from reducing stress to making our bodies stronger and even aiding recovery from illness. If the lockdowns and travel restrictions of the past two years have taught us anything it has been just how important it is to embrace the outdoors and to bring nature into our homes as a means of enhancing our lives.
Increasingly, those who can are embracing gardening and sea swimming, hiking and forest bathing, but it's not just individuals who are embracing nature again in this increasingly industrialised, urbanised and automated world. Educators, entrepreneurs, community leaders and even large corporations are realising just how important, indeed vital, it is to connect with the natural world.
Whether you want to go outside and make the most of any natural environment near you, or want to contemplate nature within your home or workplace, we've rounded up some of our favourite pieces designed in Ireland - from candles to jewellery, garden items to clothing in which to embrace the great outdoors this summer.

'SPUN' flower vases by Coolree Design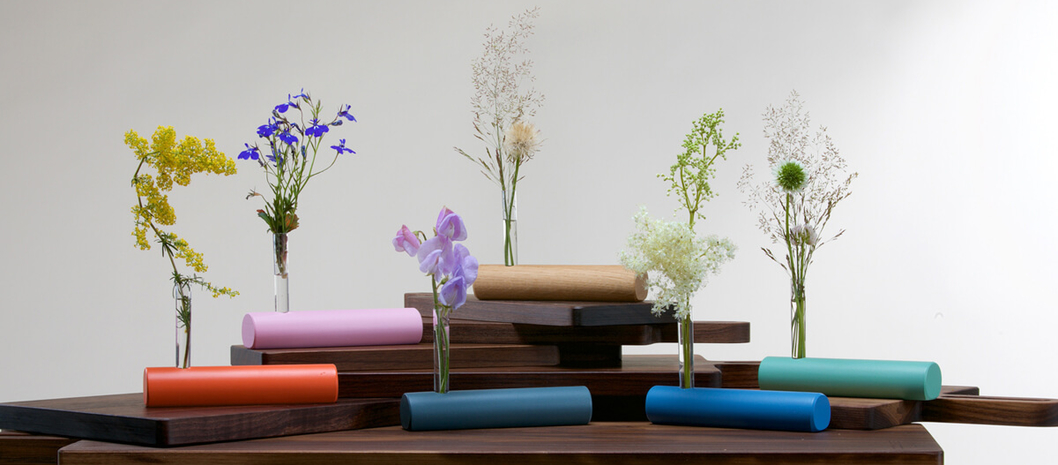 'SPUN' flower vases by Coolree Design. €15 each.
Bring the outdoors in with one of these pretty contemporary vases by Coolree Design. Whether it's a sprig of cow parsley from the hedgerow or a single bloom from your garden, balcony or local shop, it won't fail to be enhanced by the 'SPUN' flower vase. Made from solid hardwood with a clear glass receptacle, this little vase is available in five finishes to suit all tastes - from natural oak and to bold orange.
'Irish Oak' print by Dollybirds Art
'Irish Oak' print by Dollybirds Art. €55.
A childhood immersed in art and nature led artist Eimear Maguire to establish Dollybirds Art in 2013. Her paintings celebrate the diverse natural beauty found throughout Ireland and are her way of sharing the joy she finds in the natural world. Her art prints are created for the nature lover. Displayed on their own or as part of a gallery wall they look wonderful whatever your style be that bohemian or modern, minimalist or maximalist. Why not display one of her prints alongside your favourite objet d'art, mementos and houseplants? Printed from an original hand-painted image,, this 'Oak' design represents strength, endurance and fertility - the king of trees.

Handwoven traditional garden trug by Saille Baskets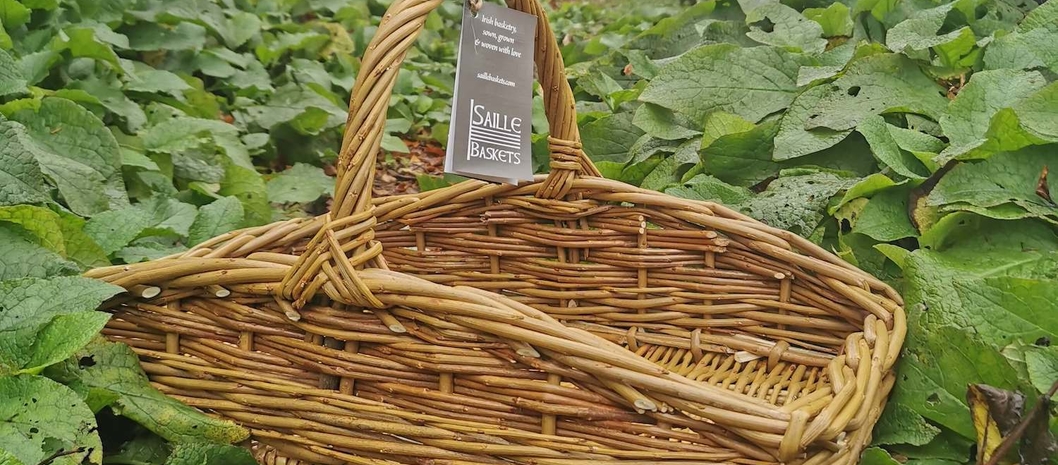 Handwoven traditional garden trug. €85.
Saille Baskets founder Diane Carton has been weaving baskets for over 15 years - her love of nature and the environment linked beautifully with the sustainability of growing willow for her beautiful trugs, baskets and woven tote and lunch bags. This trug is a pleasure to use and simply perfect for use in the garden - whether gathering fruit or flowers - or for use as a centrepiece on a kitchen counter or table for the display of dried flowers or fruit.

'Tide Tales: Ballydonegan Beach' print by Skyfolk
'Tide Tales: Ballydonegan Beach' print by Skyfolk Ireland. €80 - €460.
Founders of Skyfolk, siblings Sara and Don, spent many years abroad before returning to Cork to raise their families. A desire to create a contemporary product that was simultaneously reminiscent of home resulted in the formation of Skyfolk. The brand's prints showcase the extraordinary open spaces of Ireland with a bird's eye view of some of the county's most beautiful beaches, islands and forests. The prints are made to order in a variety of sizes and printed on Hahnemühle Photo Rag 308gsm paper using special pigment inks. Ballydonegan Beach featured in this print is located in Allihies at the edge of the Beara Peninsula. Prints can be framed for customers located in Ireland.
Merino wool blanket in cobalt by Urban Aran
Merino wool blanket in cobalt by Urban Aran. €225.
Urban Aran is an independent Irish knitwear brand founded by Christine Murphy in 2017. The collection is influenced by urban art in all its forms - specifically that found in her home city of Waterford in Ireland's south east, where the Waterford Walls project celebrates the work of Ireland's most celebrated street artists. Giving the traditional a contemporary spin, this oversized merino wool blanket is a terrific way to stay warm when sitting outside in the evening with a glass of wine or at a picnic or festival this summer.
Outdoor Fire Pit by Rawsaol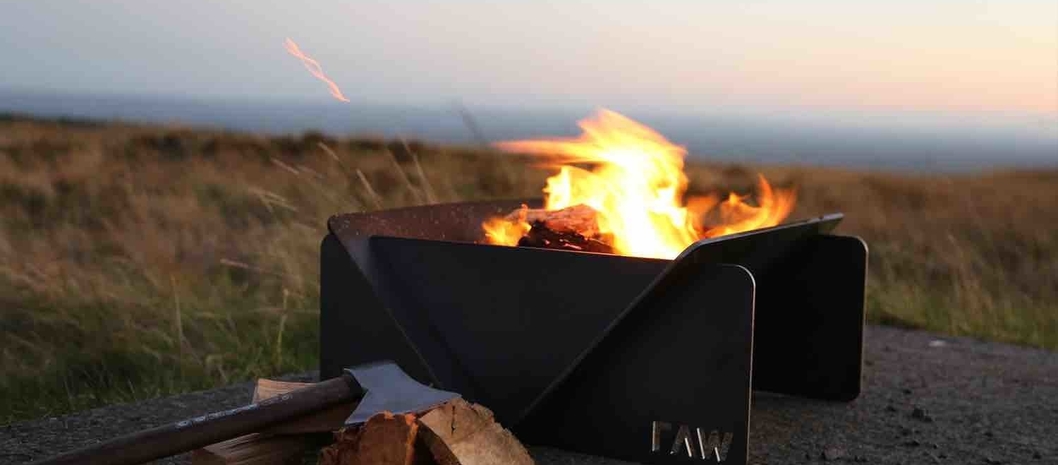 Outdoor Fire Pit by Rawsaol. €290.
Who doesn't love sitting outside on warm summer evenings with family and friends? Make the most of your outdoor space with a wood burning fire pit by Co. Carlow's Rawsaol. The foldable steel fire pit is handmade and features a raw finish which will develop a wonderful patina over time. Rawsaol's range also includes some other new products to help you enjoy the outdoors and nature too including camping firepits, large outdoor steel planters and flatpack metal flower pots which make for great gifts.
Shell pendant by Martina Hamilton
Silver and rose gold shell pendant by Martina Hamilton. €310.
Drawing inspiration from her native surroundings along the Wild Atlantic Way, jeweller Martina Hamilton's work is characterised by a sense of natural beauty. Her pieces are textured and evocative yet comfortable to wear. They are nature-inspired - think seeds and stars, leaves and shells - yet seem to have a classic quality about them that means that won't seem them date or grow tired. Embrace the sea everyday with Martina's silver and rose gold pendant inspired by broken shells on Streedagh beach in north Co. Sligo.

Recycled glass seed cloche by Glint Glass Studio
Recycled glass seed cloche by Glint Glass Studio. €40.
Based in the coastal village of Sandymount in Dublin, Glint Glass Studio make all sorts of brilliant items for the home from recycled glass bottles and jars - a sustainable element that will appeal to any nature lover. Their handmade glass cloche made from a former commercial pickle jar is the perfect cover for propagating seeds and acts as a mini greenhouse - keeping heat and moisture in while acting as a deterrent for mini predators. Measuring 160mm wide x 180mm high it features a leather handle with wooden stopper.
Donegal tweed 'Touring' cap by Hanna Hats of Donegal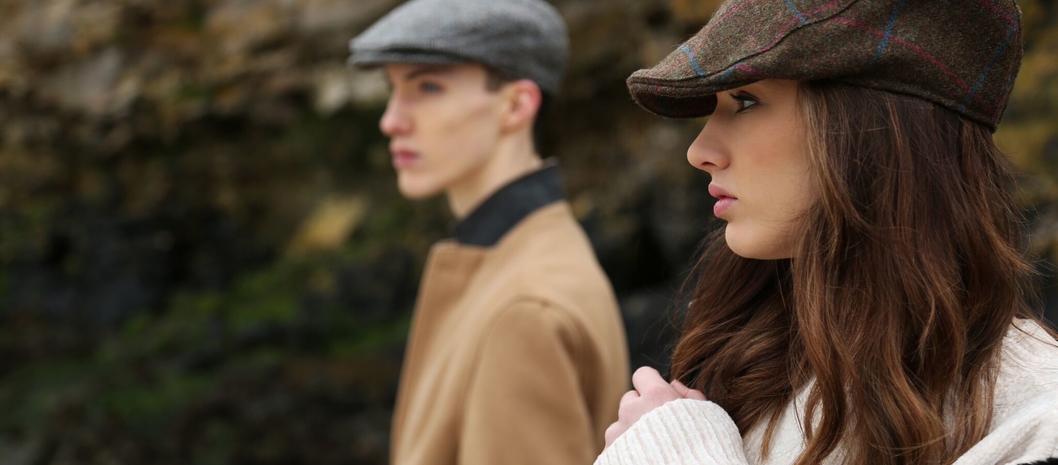 Donegal tweed 'Touring' cap by Hanna Hats of Donegal. €69.
What could be nicer to wear for a walk on the beach on a chilly day, an evening saunter down a country lane or taking in the sights at one of Ireland's many ancient heritage sites than a handmade cap from Hanna Hats of Donegal? This style of cap is one of the most popular in the range created by this third generation family business. The 'Touring' cap features a curved peak which is sewn down at the front to create a more bespoke look. Available in a range of beautiful Irish wool tweeds, it is also available in linen - perfect for special occasions or warmer climes.
Recycled mini copper planter by Kopper Kreation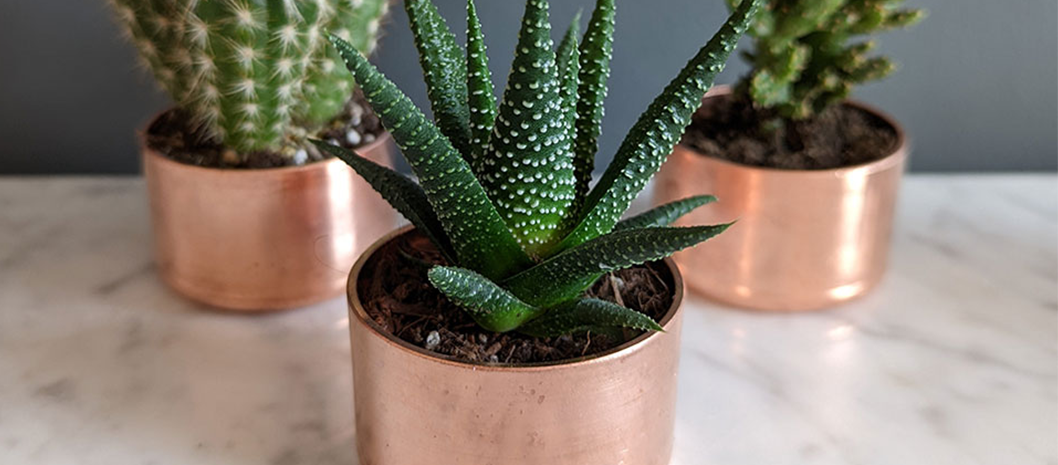 Recycled mini copper planter by Kopper Kreation. €20.
Kopper Kreation founder Emmet Bosonnet has an ability to see the beauty and functionality in things other people throw away and he creates functional, sustainable products made from reclaimed and recycled materials including candle holders, lamps and even copper clothes hangers. His mini planters are a great way to add a cactus or succulent to even the most narrow of shelves or window sills and even comes with an easy-to-care for plant on purchase.
Large 'Sea' candle by FieldDay. €17.95.
Founded in 2002 by Alix Mulholland, FieldDay creates home fragrances that pay homage to the countryside of Northern Ireland, its wildflowers and fauna. As well as creating beautiful candles, home fragrance products and gifts, the brand also exhibits strong eco-credentials and partners with the Ulster Wildlife charity to support them in their local wildlife conservation efforts. We love the 'Sea' candles with notes of lemon, bergamot and green tea. And the best bit? Each candle is topped with a wildflower seed paper lid which you can grow in the container when the candle is finished.