Designer: Sarah Rossney Art
Stunning art pieces that celebrate lively snapshots of everyday life.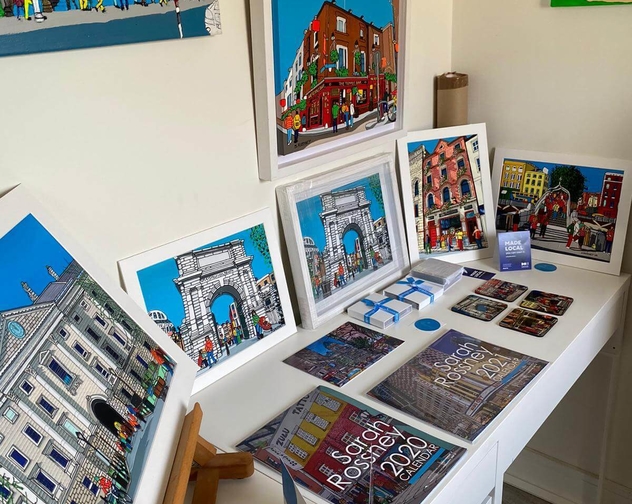 About Sarah Rossney Art
Sarah is a Dublin based artist and her paintings consist mainly of cityscapes and urban street scenes. Her paintings are steeped in culture and depict snapshots in time in Ireland's ever-changing capital city. She can transform sometimes mundane urban scenes into bright and fascinating studies of city life full of colour, contrast and motion. The overall effect of Sarah's work is the fusion of the real and the fantastic into inspiring and optimistic visions of modern life; the sky is brilliant blue; the sun is always shining, and the people wear day-glow.
Discover more about Sarah Rossney Art
Sarah holds a degree in Archaeology and Italian. Her artistic career started with mosaics and stained glass as a hobby while in college. Then when experimenting with acrylic on canvas she developed a technique of raised bold outlining. She combines this bold outlining with vivid colour to produce cityscapes and street scenes that are optimistic visions of everyday life. She collaborates with The CopperHouse gallery. They scan up the paintings to produce fine art giclee prints These are limited edition prints that are signed, rolled in acid free paper and sent to the customer in recycled postal tubes. They can also be mounted and /or put in a hand crafted frame. She uses the images to produce fine art calendars. Her 2022 Dublin Scenes calendar is wrapped in a biodegradable PLA slip