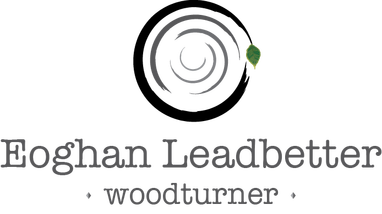 Designer: Eoghan Leadbetter Woodturner
Eoghan Leadbetter is a woodturner from Stoneyford, Co. Kilkenny, Ireland. He designs and creates a range of handcrafted sustainable wooden products. Designed with everyday use in mind, each piece is made from naturally felled, locally sourced trees.
About Eoghan Leadbetter Woodturner
Having grown up in the family–run Jerpoint Glass Studio, one of Ireland's iconic designer–makers, Eoghan was surrounded by craft and design his whole life. In 2015 he began his journey with woodturning and wood design. His work consists of functional and sustainable homeware products made to last a lifetime.
Discover more about Eoghan Leadbetter Woodturner
Each bowl is roughly shaped on the lathe when the wood is still wet and unseasoned. It then goes into a drying kiln for a number of weeks where the roughly turned bowls will dry very slowly and carefully to prevent the wood from cracking. When dry the bowls are mounted back onto the lathe for the final shaping and sanding. I use a food safe oil mixed with beeswax to finish the bowls making them ideal for salads, fruits or nuts.