Designer: Urban Aran
To create sophisticated, bold, colourful but considered luxury knitwear for modern lifestyles using ethically sourced natural fibres.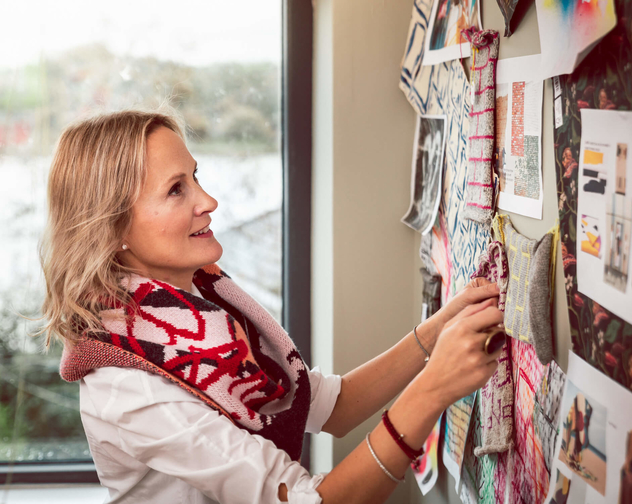 About Urban Aran
Urban Aran is an independent Irish knitwear brand offering bold, colourful but considered knitwear for modern lifestyles founded by Christine Murphy in 2017. Her collections are influenced by urban art in all its forms. Her inspiration is drawn from urban art in her home city of Waterford in the South East of Ireland and from 'tags' in public spaces to derelict walls magnificently embellished by accomplished street artists. Designed to be cherished, each piece proposes an engaging balance of opposing elements—past and future, masculine and feminine, strength and softness, structure and fluidity.
Through intuition and passion Christine conceptualised her brand as a luxury ready-to-wear knitwear, designed to last a lifetime. A creative use of heritage aran yarns and stitchwork combined with contemporary urban art designs make eclectic sophisticated essentials for modern life.
Discover more about Urban Aran
Urban Aran is about connecting with the contemporary creative culture of Ireland through a love of textiles, luxury fabrics, use of bold colours and colour reflecting landscapes. Christines first fashion collection is inspired by the wonderful Waterford Walls initiative a programme in Waterford city reflecting the Irish landscape through inspiring cultural and colourful art. Urban Aran is a contemporary Irish knitwear brand that adapts that creative contemporary culture in its use of knitted techniques in colours and fabrics that represents differing Irish landscapes nationally. Urban Aran has been privileged to collaborate with historic Irish luxury hotels crafting beautiful knitwear in line with their design aesthetic.
Christine uses bold and muted colours, aran and other knitting techniques to reflect the landscape of their historic presences while in contrast I have brought vibrant and bold but sophisticated colourways to my latest wearables collection inspired by the urban city art adorning the walls of Waterford.