Designer: Lorraine Fletcher Art Studio
Lorraine Fletcher Art Studio is based in Loughrea, Co.Galway. Creating original paintings, limited edition prints and giftware with a contemporary take on our native Irish Wildlife. The importance of family, friendships and relationships run throughout the range through the use of colour, composition and sentiment.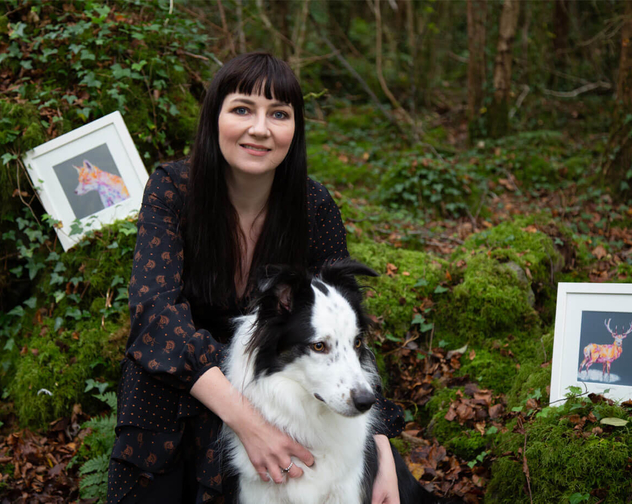 About Lorraine Fletcher Art Studio
Established in 2013 by Galway based artist Lorraine Fletcher, a series of wildlife inspired prints and giftware showcasing the beauty and strength in animals through colour. Lorraine grew up in the countryside of Co. Armagh, surrounded by rolling hills and abundant wildlife. It was inevitable that these memories would influence her work. Vivid colours where they are not normally seen and a focus on expression are characteristics of her style. Add an element of nature to your home and explore her designs of majestic foxes, owls, stags and many more.
Discover more about Lorraine Fletcher Art Studio
Wildlife Artist Lorraine Fletcher creates vivid and fabulously striking contemporary art. Animals have always been the focus of Lorraine's work and the reason being pure love and interest of animals. Beginning with an initial sketch and finishing with an original acrylic painting, the image is then captured to produce limited edition giclee prints on fine art paper using archival inks. The colours and distinct grey backgrounds are so the viewers can see these animals in a unique way. Relationships, the importance of family and friends and emotion are relevant and portrayed in her work. The two stags standing side by side symbolising togetherness and unity, the affectionate mother fox nuzzling her young all relate to human behaviour. Her elegant wildlife-inspired pieces are original and unique artworks composed of acrylic on canvas. Also available is a range of limited edition prints which is then embellished with gold and copper leaf.