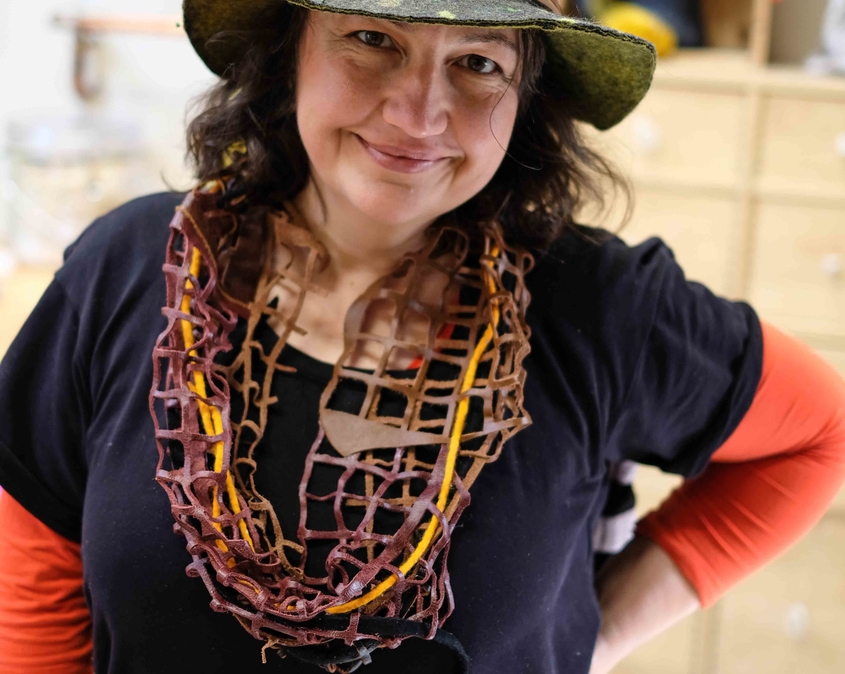 Designer: Niki Collier
Niki Collier is an award-winning visual artist and felt woman. She creates felt hats, scarves, gloves and garments renowned for flawless execution and sassy stories. She imagines and puts together for you craft kits from local wool. She exports to Europe, USA and even sometimes to Connemara. Her Wild collection is the first truly Irish Felt- made from the fibres of Irish tweed in genuine Donegal tradition.
About Niki Collier
My work uses scale to disrupt perspective. I do it with the relentless hope that I could evoke empathy and offer us balance. Through the process, I end up learning a lot about myself and understand others better. My practice demands that I get up front and personal with techniques and materials. All is made in wool. Every act converges science and art. Every product and art piece is a an attempt to open horizons and offer solutions. I use my perspective as an Irish woman from Bulgaria and a maker with limited use of her right hand to offer that extra bit that we need, but don't know how to create.
Discover more about Niki Collier
My process is simple, but full of wonder and kindness. I use local wool where possible. I go to the local farmers, we have a cup of tea and then I go home with a bag of wool. I get my tools custom made by a friend who makes tools. I do a drawing, we discuss materials and function and then we get it made. And I make everything in my studio in beautiful Marlay Park.
Among a tone of wool, a kilometer of silk and so many tools you would suspect I am a hoarder.
There is nothing better than telling our stories in wool.