Designer: Brooke & Shoals Fragrances
Gifts
Beauty & wellness
Wicklow
Brooke & Shoals is a boutique fragrance brand with award -winning, mood-boosting scent blends, sustainably sourced ingredients and ethical manufacture. Our products include scented candles, fragrance diffusers and body products.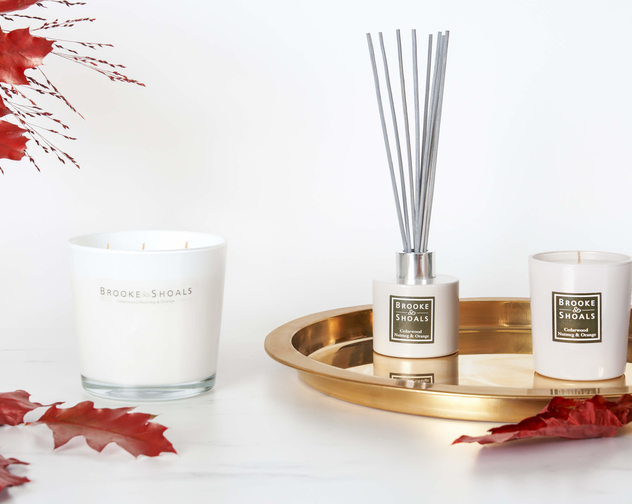 About Brooke & Shoals Fragrances
Brooke & Shoals was founded by Alison Banton in the picturesque seaside town of Greystones in County Wicklow. Alison's passion for fragrance was inspired by the divine aromas of the petals she picked as a child in her great-aunt Mollie's circular rose garden. Mollie used to say the 'babbling brook and the whispering shoals' would help her turn Alison's rose petals into perfume. But overnight, the kind old lady would add real perfume to the little girl's watery mixture; fooling her into thinking she had created the wonderful aroma!
Discover more about Brooke & Shoals Fragrances
Over the past 11 years, Brooke & Shoals Fragrances have won a total of 11 awards in Ireland and the UK, for the quality of their products and for the innovation of fragrance blends.The company's premium product collection includes scented candles, reed diffusers and body products. All products are made with great care and attention in Ireland, using superior grade ingredients; including vegan friendly natural wax, which is kinder to the environment, and glycerine-based diffuser oils, which are from a renewable source that is alcohol-free. Their high standard of manufacture ensures a consistency of the quality of their collection.