Designer: Patricia Millar Ceramics
Pottery that captures the ancestry, texture and colour signature of the Irish landscape through pit and wood firing.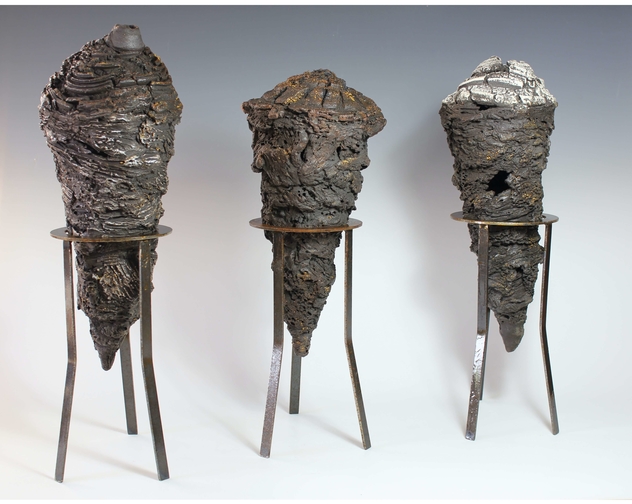 About Patricia Millar Ceramics
Born in Belfast under the shadow of the Cavehill, Patricia's interest lies in the ancient past. A childhood playing around Bronze Age sites, digging clay and making bowls hardened in bonfires, have shaped her ceramic practice of today.
Site specific locations such as bog land, ice age shoreline and basalt coast offer rich pickings in clays, organics and gravels. Her work is usually pit or woodfired, marking the pottery with the unique texture and colour signature of the Irish landscape.
Patricia's studio is located by the Giant's Causeway, County Antrim.
Discover more about Patricia Millar Ceramics
My ceramic work echoes the landscape and ancestry of the Irish countryside. My pottery is not just about a place but made from it.
I collect clay, gravel and organics from a special location. These are worked into stoneware clay and finished with ash glaze made from burning site specific organics such as willow or seaweed. Wheel thrown or hand-built forms are fired in a kiln or earthen pit fuelled with local wood.
These ancient techniques push the materials to their limits, achieving wonderful organic effects that echo the textural surfaces of turf, moss, lichen and geological formations. A collaboration between myself and a location's materials result in a serendipity of form, colour and texture.