Designer: Airmid Natural Handmade Skincare
Skincare from the Heart of the Burren
Inspired by the rare and mystical landscape of the Burren, Airmid brings a natural approach to skincare. Airmid was the Irish Celtic Goddess of Herbs and Healing to the Tuatha Dé Danann, Ireland's magical ancient tribe.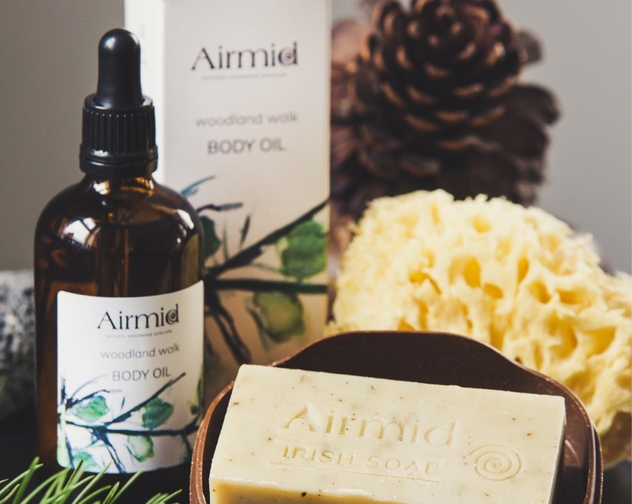 About Airmid Natural Handmade Skincare
Airmid products are specially formulated for sensitive skin and contain no parabens, fragrances or artificial colours. The company began in Kilfenora in 2012, when Kevin and his partner Tina Robinson were struggling to find skin products for their son who was born with eczema. They developed a unique pure chamomile soap, using herbs from their own garden. This was the first product created and is still one of the most popular sold.
Discover more about Airmid Natural Handmade Skincare
"We grow the flowers and herbs ourselves, we collect the beeswax and honey from all the beekeepers locally, everything is as Irish as possible. We are genuine manufacturers and the full Airmid collection is produced in our Kilfenora workshop. All soap bars are cut by hand and are cured for at least six weeks to ensure a luxury, long-lasting product.
Creating high quality sustainable products has always been a priority for the company, who use plastic free and sustainable packaging from Irish suppliers. The design of their new store includes a vintage bath, salvaged from a forge in West Clare, upcycled furniture and Airmid's own twist on retail.