Article
Get Creative with Workshops by our Craftspeople
27 Jul 2022
Read Time: 6 mins
They say that engaging in art or craft is good for both the body and the mind - it can alleviate stress, boost feelings of accomplishment, improve coordination and even distract from pain. Engaging in a workshop is a great way to develop a skill, to meet new people and to go home with something that you made yourself and that you can proudly display in your home.
Many of the skilled craftspeople at Design Ireland are hosting workshops to suit curious creators of all skill levels - from introductory classes to masterclasses. Most of these classes are accessible to people of all ages though some are designed specially for younger people. From woodturning in Co. Carlow to textile art in Dublin city, here are some of our favourites from around the country.
Glenn Lucas is a Master Woodturner based in Bagenalstown, Co. Carlow who has vast experience in producing his own beautiful work as well as in teaching. Lucas has demonstrated his skills all over the world, has been featured extensively in the media both in Ireland and abroad, and has appeared on our television screens as the Master Turner in the RTÉ television's series 'Craft Master'.

Built during the pandemic, his purpose-designed woodturning studio is an incredible place to discover the art of woodturning or to enhance your skills if you've done it before. Lucas offers a wide range of courses from one day beginners classes to three-hour masterclass sessions, one-to-one tuition sessions and even remote private tuition by arrangement.
Find out more at Glenn Lucas Woodturning.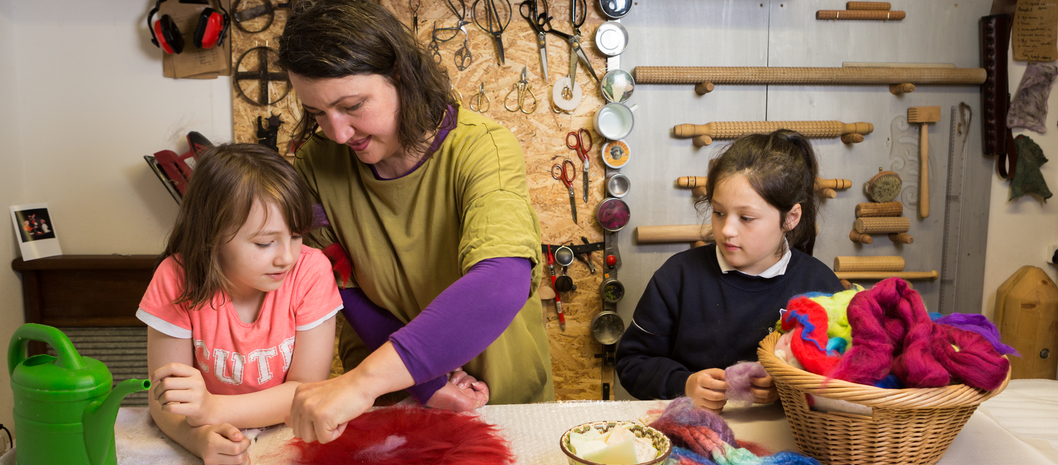 Niki Collier is an award-winning visual artist and designer who works in fibre art and wearable technology. Collier uses scale to spark conversation about empathy and empowerment and, with a PhD in Computer Science, she is curious about the intersection of art and science as well as the role of art in developing creativity and resilience.
Collier regularly runs classes from her studio space in the beautiful Marlay Park in Dublin and elsewhere. This August you'll find her running her 'Felt Fridays' drop-in workshops as well as her fashion summer camps for kids in which participants can learn more about weaving, knitting and felting. Why not weave a rainbow on a weaving loom or upcycle a pair of old jeans into a beautiful bag? All materials included.
Find out more at Niki Collier.

3. Arran Street East have two terrific studios - one in Dublin city and one in the village of Schull in West Cork.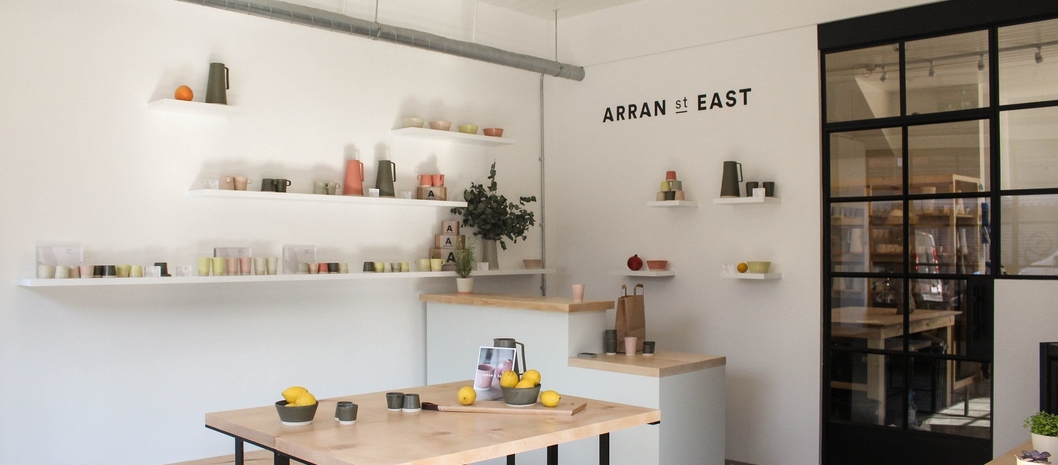 Arran Street East, Dublin and Schull in West Cork.
Dublin and West Cork
Arran Street East is a successful pottery and weaving studio in the heart of Dublin's old Victorian markets area. The studio makes contemporary table- and homewares including jugs, mugs and vases - and also runs courses throughout the year for those interested in learning the craft of throwing or hand-building in clay or, more recently, those wishing to learn the art of weaving.
Arran Street East offers many different options including 1.5 day courses, summer four-morning courses and seven week evening courses covering everything from mug making to throwing workshops to specialist glazing classes. Whether you want to dip into a couple of classes with friends or delve into the practice more deeply, they have a class to suit you.
Arran Street East recently acquired a building in the heart of Schull in West Cork too where they are also hosting workshops and classes including accessible half-day classes, full-day classes and five-morning classes in pottery and afternoon weaving workshops.
Find out more at Arran Street East.

4. Bevel Woodworking School on the Hook Peninsula offer a range of courses from making houses for wildlife to Adirondack chairs for relaxing in.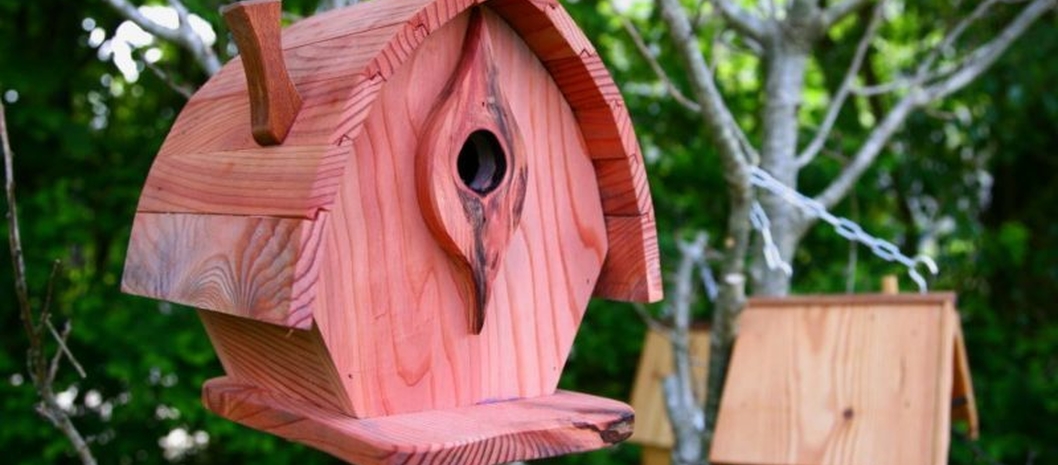 Bevel Woodworking School, Hook Peninsula, Wexford
Located on the beautiful Hook Head peninsula, Bevel Woodworking School is not only a great excuse to visit Wexford's Norman trails and the famous Hook Lighthouse, but also a terrific spot to create some beautiful wooden items for your home and outdoor spaces. The woodworking school is owned and run by Tommy Kelly who has been making furniture for over 20 years with his business Bevel Furniture.

Courses run all year round and at Bevel you can learn to make a beautiful little hedgehog box for your garden or allotment in which the animals can rest, hibernate and breed safely. There's also a course on how to build an Adirondack chair or a sunchair for your garden and many more ongoing.
Find out more at Bevel Woodworking School.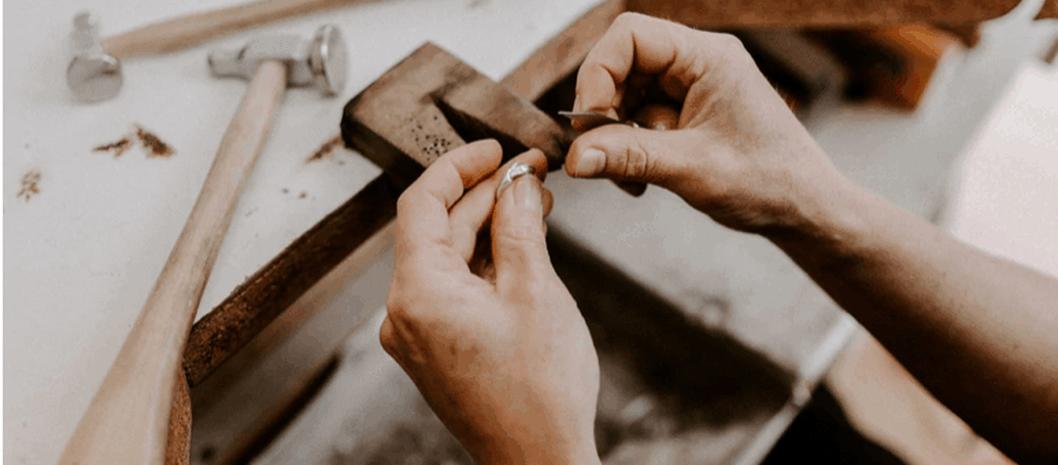 Also based in Co. Wexford, Lina Varna is a Lithuanian metal artist who has worked for many years in the industry having graduated from the Vilnius Art Academy in 2002. Varna is heavily inspired by nature in her work and many of her designs are characterised by natural and botanical forms.

Varna's workshop is located in Wexford town. Here she offers many different workshops where beginners can make their own silver ring, pendant, bangle or earrings. She also offers a workshop in silver spoon making - a beautiful idea if you have a christening coming up in the family as a silver spoon is a traditional gift for a new baby symbolising happiness and prosperity.
Find out more at Lina Varna Jewellery.
Windrush Farm, in the beautiful surroundings of Newtownmountkennedy, Co. Wicklow, offers four fantastic workshops inspired by life on the farm - Jewellery inspired by Nature, Art in the Wild, Felting with the Flock and Weaving with Willow. The workshops offer participants the chance to combine time spent outdoors in nature on a working farm as well as time spent engaging in a creative activity.
What could be more fun than meeting a flock of Zwartbles sheep followed up by a needle felting workshop where you can create your own mini version from their very wool to take home? Or how about embarking on an immersive nature walk where you'll discover lots about Ireland's native flora and fauna while making your own charcoal from willow and brushes, quills and inks from the wild?
As you'll be spending some time outdoors it's best to dress for the (in)famous Irish weather. The workshops at Windrush Farm are best suited to those over the age of 16 and, while the nature trails are not wheelchair accessible, some workshops can be adapted on prior request.
Find out more at Windrush Farm.