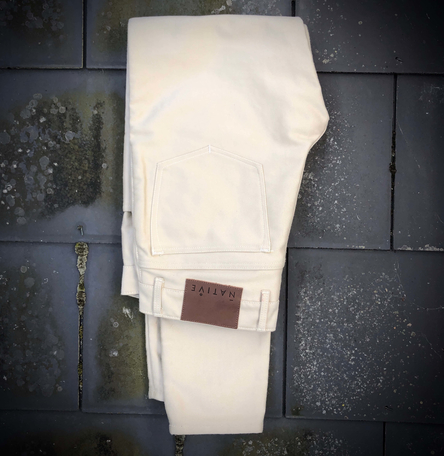 More details
Moleskin is a 100% cotton fabric with a sheered "weft" to produce deep pile nap similar to fleece. It not made from the skins of the Mole animal. Nigh impossible to source, this "King of Cloths", was developed in medieval times. From the "Fustian" family of fabrics, our 15.5oz./sq. yd. is a heavyweight, but does not require "breaking in" as it is lush, plush, durable and long lasting. Considered wind-proof with water resistance properties, we construct using a reverse engineering method to ensure you are wearing a jean that has a beautiful feel and a soft touch.
Vintage Construction as standard using long and thin staple cotton yarn woven fabric. Options include Zip or Button Fly, a choice of copper/silver rivets, protruding or inverted and a range of thread colours.
The following range of colours are available, Beige, Copper, Gold, Black, Navy, Burgundy, Olive Green and Gunmetal Grey. This is from a European mill who are producing Moleskin since 1777. This garment is extremely durable and although we guarantee for5 years, Moleskin of this quality if handled with care will perform for up to 10 years. Deep front pockets, using 7oz/sq.yd 100% cotton twill fabric. Garment is fully bias bound, no raw edge thread covering, known as overlocking. Single piece fly construction.
Guttermann cotton with natural poly permacore heavy gauge thread as standard. Back pockets cut on bias of fabric for body shape, using single needle construction. Inside leg is "French Seam Interlock Construction" on a 1940's felling machine. Outside leg is "Open Split and Bound" All belt loops are waistband tacked and tucked for strength with extra loops included for belt sit. 100% 3mm vegetable tanned solid leather identifier. Bar-Tacked hems for strength and durability. Jean cut on-grain.
This Product is Designed and Made in Ireland using materials sourced in Ireland.