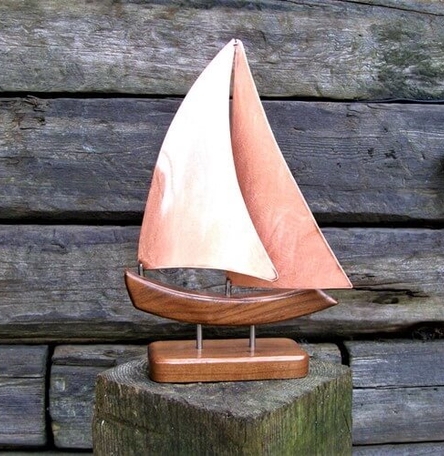 ZANZIBAR COPPER Yacht Model
More details
The Zanzibar Fleet are a Limited Edition Collection of Stylized Yachts inspired by a child's drawing of a sailing boat. Zanzibar XXVI features Brushed Copper Main & Headsail on a Starboard Tack. Her curved hull & base are walnut, with stainless steel fittings and a lacquered finish. All materials are sourced in Ireland. Each Zanzibar is designed and individually handmade, at the workshop in Malahide, Co Dublin and will be different to another in the fleet, supplied with a signed, numbered card. Available to order in the sail combination of your choice on port or starboard. "There is a kid in all of us and a Zanzibar for every adult"
Height 340mm x Length overall 230mm approx
The Product is Designed and Made in Ireland using materials Sourced in Ireland.