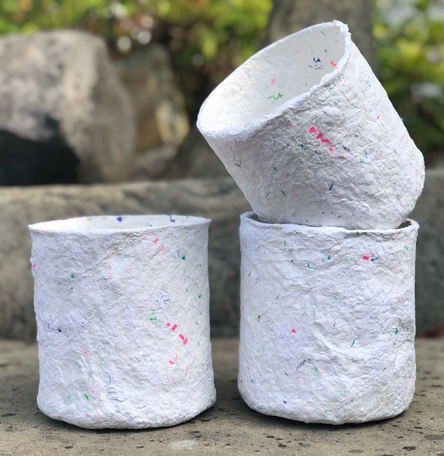 More details
Uathúil (meaning unique in the irish language) a series of recycled paper clay pot by the pear in paper using recycled fibres that have been letterpressed allowing for this colourful speckled finish.
The process of handcrafting each recycled paper pot takes two weeks from start to finish. I have a passion for the environment and it is thrilling to be able to reuse every piece of paper / card from my workshop.
When I'm in the make-ready stage of letterpress printing, I have card that I use several times over to test alignment and colour.
I store these cards and recycle them into a paper clay and then into these recycled paper clay pots!
All products are designed, printed and handcrafted at our Letterpress & Linoprint Studio in County Donegal, Ireland. All materials used in our greeting cards, prints and paper pots (including packaging) is sourced in Ireland.