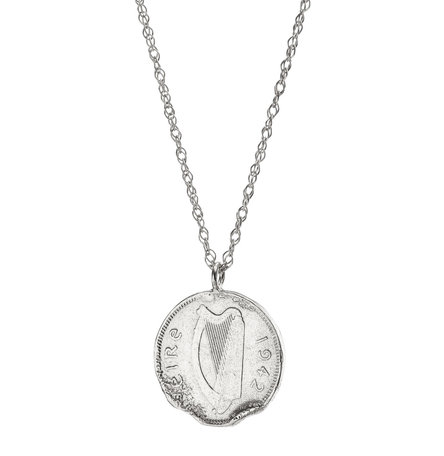 Sterling Silver Hare 3 Pence Coin Necklace
More details
Both intricate and interesting, this Hare 3 Pence Coin drop necklace is created by the Irish jewellery designer, using sterling silver then with a molten wear and tear effect to the coin. The handmade piece of jewellery is inspired by the Hare 3 Pence Pre-Decimal Irish Coin.
SIZE: Chain length is 20 inches. Pendant 28 mm x 20 mm.
MATERIAL: Sterling silver rope chain necklace with spring clasp. Chain thickness is approx. 1.8 mm. Hand-crafted in Ireland. Hallmarked in Ireland's historic Dublin Castle
This coin pendant is made from sterling silver here in Ireland, with the sterling silver chain sourced in the UK and Ireland.