Article
Scéal: a contemporary Irish fashion pop-up with stories to tell
12 Sep 2018
Read Time: 6 mins
Members of the media, Design Ireland designers and fashion buyers at Kilkenny yesterday celebrated the launch of the month-long Scéal fashion pop up shop in Kilkenny's Nassau Street store. Scéal brings together a carefully edited selection of contemporary Irish fashion and accessories that are designed and made in Ireland and seeks to tell the stories of the designers behind the brands and their stunning contemporary collections.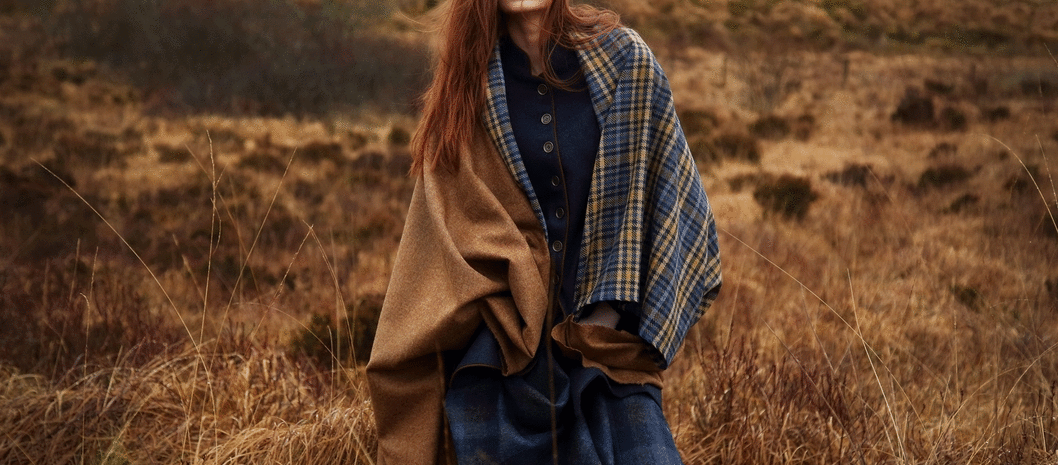 The Scéal fashion pop up is a collaboration between Kilkenny and Design Ireland and has been curated by Emma McGrath, The Design and Crafts Council of Ireland's Trade Development Manager, and Kilkenny's Fashion Buyer Sineada Dempsey. Scéal features some of the very best examples of Irish fashion design and includes the brands Natalie B. Coleman, Manley, Shevlin Millinery, Madigan, Bernie Murphy, Holden Leathergoods, Emblem Weavers, Debbie Millington and Triona Designs.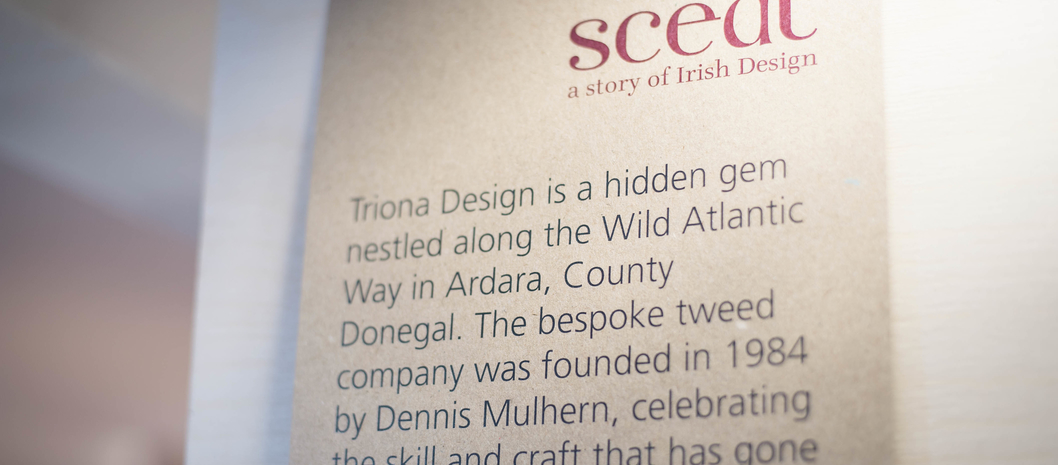 "Scéal" is the Irish for "story", and, while the brands chosen as part of this pop up may be diverse in style they are united in the strength of their product and in the story behind the brand. Each of these brands has a unique aesthetic and creative viewpoint with a unique story behind every maker and each design. When you buy a piece made by one of these brands you are not simply buying a garment or an accessory but are buying into the story of the brand and the work of a specific maker.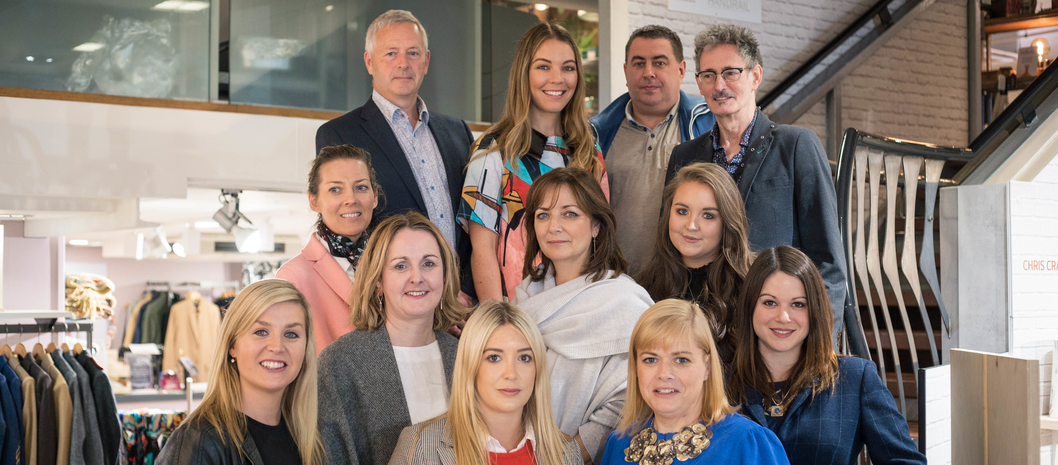 "The perfect opportunity arose for myself and Emma McGrath to do something to promote contemporary Irish fashion in the store," says Sineada Dempsey. "We are really happy with our final edit and to be able to share the collections of such talented designers with our customers for the month of September. We have had a truly phenomenal response from customers so far."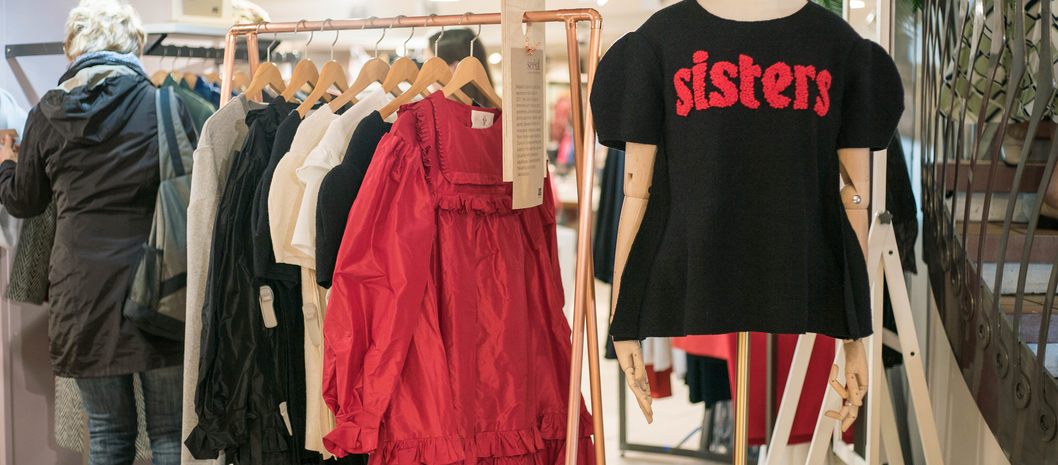 "This is our first time running this kind of concept in-store and we wanted to choose different personalities and flair to provide a good mix to the customer. I think you can really see here that it really works. We want to have very commercial brands but we also want to push our customers to take some risks in terms of design. All these products are designed and made in Ireland and the quality is there - these are products that you're going to have long into the future."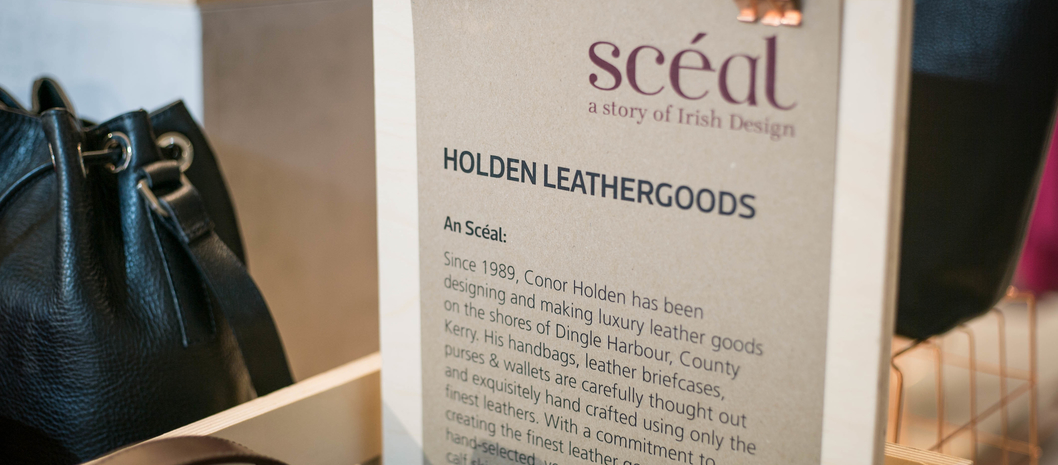 The award-winning Holden Leathergoods produce stunning modern classic bags, which are all designed and made near Dingle in Co. Kerry. Their range includes tote bags, crossbody saddle bags, shoulder bags and travel bags. "Each of the five tanneries we use specialises in specific leathers - be that embellished leathers or classic leathers, suede or leathers in weird and wonderful colours!" says Conor Holden, founder of the brand.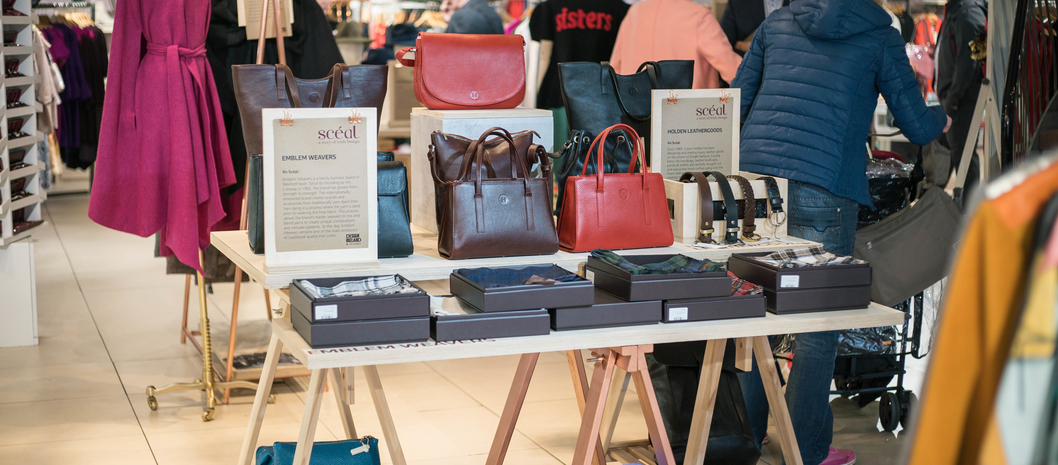 As part of the Holden Leathergoodsrange on sale at Kilkenny this month, Conor has included a new fashionable retro bucket bag style in black leather, vibrant limited edition washbags and makeup bags and the brand's new tote bags. "Our leathers are all vegetable tanned which means that, as our bags age, they develop a lovely patina over time and begin to tell their own stories," he says.

I'm delighted to have the Shevlin brand stocked in Kilkenny, Nassau Street and to be part of this wonderful promotion of Irish fashion - milliner John Shevlin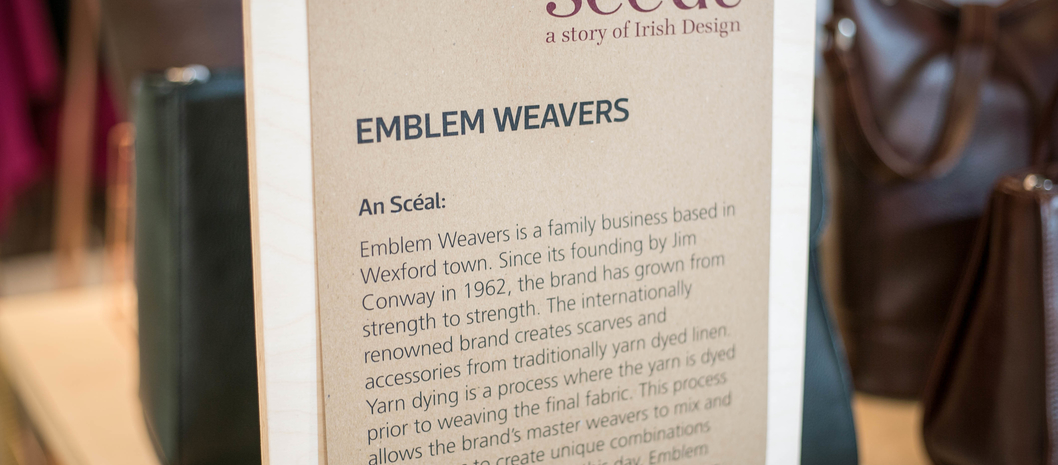 Wexford company Emblem Weavers produce traditional yarn dyed Irish linens. "Many other weavers weave white yarns and then dye their products, but we create our patterns in the weaving process," says Stephen Conway of Emblem Weavers who has followed in the footsteps of his father, company founder Jim, who established the brand aged just 21-years-old in 1962.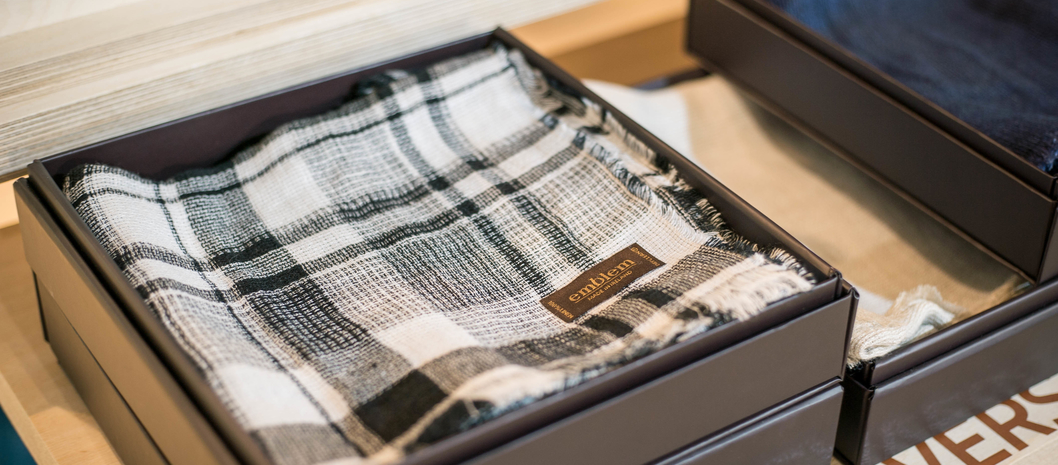 For Scéal, Emblem, which produces high-end linen fabrics for many international design houses, presents a range of beautifully-presented woven scarves in neutral colours as well as in on-trend Royal Stewart and Dress Stewart check patterns. "We feel we have a lovely product and we've focused on our packaging too in order to produce a lovely gifting item for customers," says Stephen.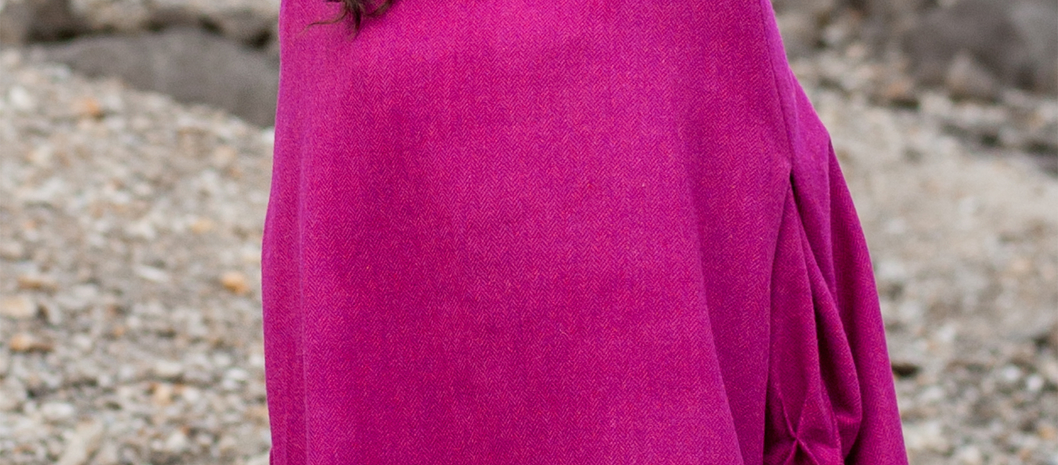 At the far end of the country to Emblem, Bernie Murphy produces her stunning garments in Donegal tweed. Since launching her Homelands collection last year, Bernie has had a wonderful response from both customers and retailers, and, for the next month, will see her range of handmade coats, capes, tops and culottes on sale as part of Scéal at Kilkenny.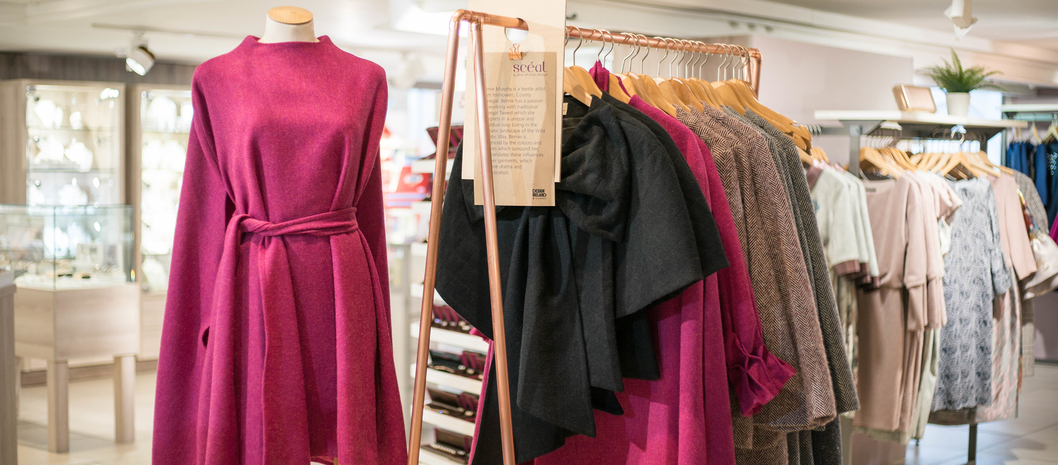 "I'm from Donegal and I wanted to use locally-sourced fabrics to help industry and manufacturing within Ireland to support industry and employment," says Bernie who uses fabrics from companies such as Magee, McNutt and Molloy & Sons in her collections. "They are all very supportive of what I am doing," says the designer who, alongside more traditional colourways, also includes a vibrant pink in her collection.

"The Scéal pop up with Kilkenny and Design Ireland is a wonderful opportunity for me to tell my story, my 'scéal', and to be showcased in such a prestigious store as Kilkenny with so many international visitors brings recognition to my brand and will help people become more familiar with my brand name," says Bernie. "Design Ireland have been really supportive to me - my product is 'made slow' and I produce timeless pieces that exist outside of fast fashion. I want to produce smaller collections than other brands but to produce considered things are made very well."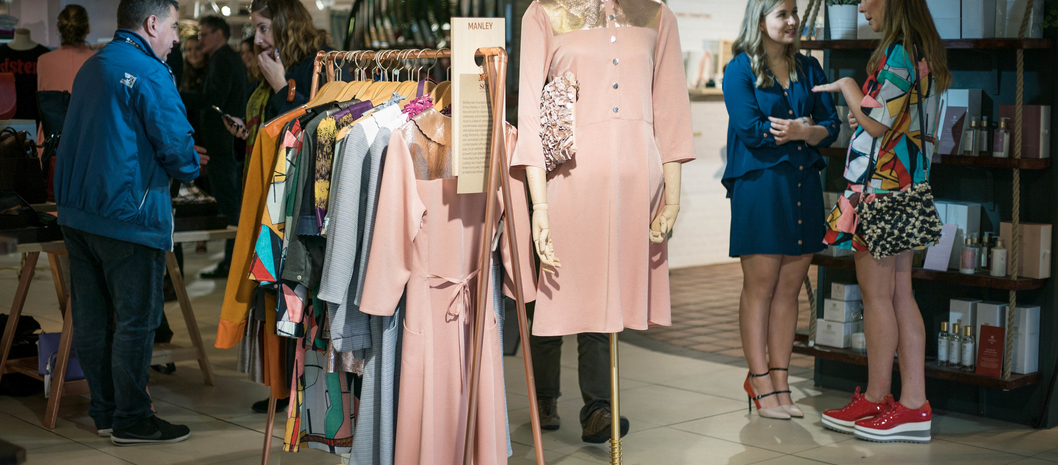 Dublin-based fashion designer Emma Manley's new collection includes shirt dresses, coats, her signature leather t-shirts, embellished bags and leather necklaces. New for this season are jackets in cashmere and wool with leather trimmed cuffs, as well as new bomber jacket styles.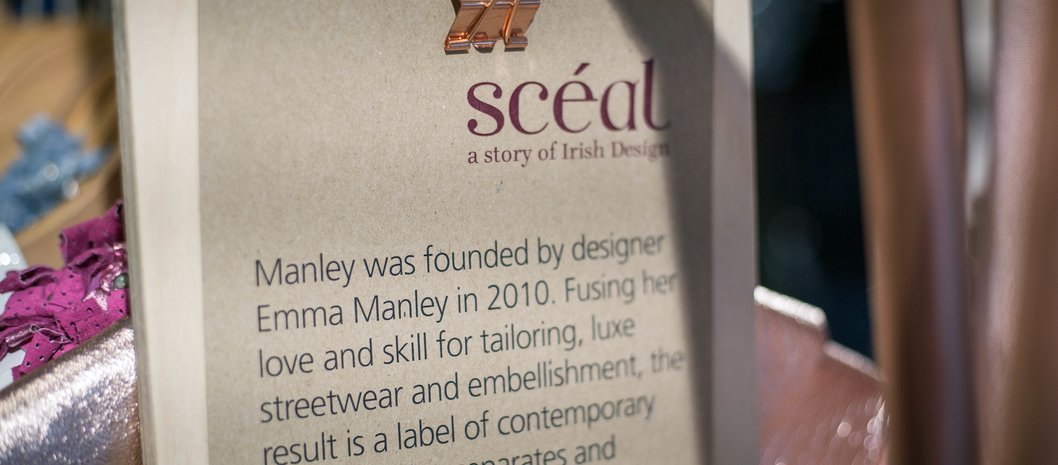 "We've upped the amount of print we are offering the customer this season," says Emma. "This is new for me as a designer, but print is incredibly popular, so we're experimenting with different prints to see what the customer wants. People know what we usually do, so to bring in prints is to explore something new." New styles in Manley t-shirts incorporate soft nappa leathers while the new Parker necklace is richly embellished and hand-punched in the designer's Dublin studio.
"The Scéal project has come at a great time for us," says Emma. "Kilkenny's Irish customer will probably recognise us but this is a great opportunity to be introduced to an international market here in Ireland. Both Kilkenny and Design Ireland have been a terrific support to my brand."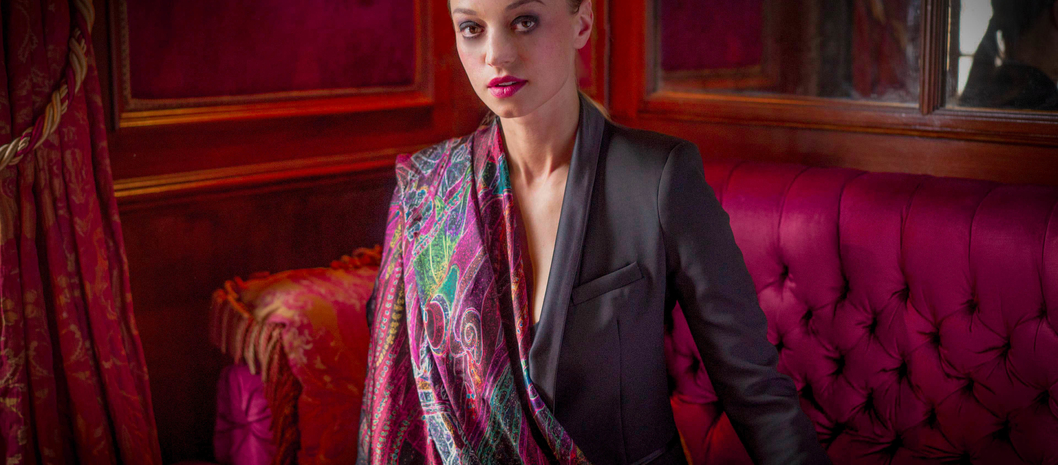 "Being now a member of Design Ireland has opened many doors for me, keeping me abreast of all upcoming shows and business opportunities and has been wonderfully stimulating, allowing me be part of a very creative network of designers," says accessories designer Debbie Millington. "The contacts and business partnerships I have made with other likeminded makers and designers has been incredible, allowing me to take less stumbles and falls along the way, learning from them and taking advice from the team around me."
The scarves in Debbie's Scéal 100 percent silk scarf collection draw inspiration from her travels in Ireland and around the world. The collection is a combination of bright vibrant impact prints drawing on everything from jellyfish to zebras, wisteria and parrots.
Speaking of the Scéal pop up shop in Kilkenny, Debbie says that, as a store with a long-standing reputation for being a centre of creativity and Irish design, it's the perfect platform for her to boost her reputation as a luxury brand in the Irish market and overseas.
"Kilkenny is renowned for being the top Irish gift store and a great shopping destination for tourists, so it will be a great opportunity to see my silks scarves travel abroad. I am hoping that tourists, as well as Irish customers, will be attracted to my brand as a result of Scéal and that it will help to grow my brand awareness both at home and abroad."